There are currently three services available for worship at St. Paul's Episcopal Church in Holyoke to meet the needs of our community during these confusing times.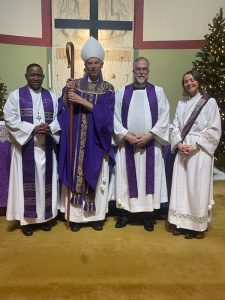 Saturday 6:00 pm Holy Eucharist is offered in Spanish
This service is led by Rev. Joel Martinez with music by Sergio D'Orsini. The bulletin is printed in Spanish and English and the service is open to all.
After the service, the congregation often gathers for fellowship and food.
The 8:00 AM Holy Eucharist is a quiet, intimate, Holy gathering of parishioners who prefer no music and smaller groups of people.
The service is led by our interim minister, Rev. Tom Barrington, and follows the same bulletin as the 10:00 am service.
The 10:00 am service is available on Zoom, and on You Tube for those who do not yet feel comfortable attending a live service. Here is where the music, the pomp, and the majesty happen. We celebrate together the Good News of Jesus and each other.
Rev. Tom Barrington together with Rev. Jac Essing, our Deacon lead the congregation each week. Our organist is Curtis Mercier and once a month Sergio D'Orsini will share his musical talents.